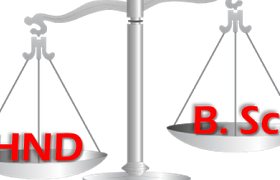 1 Quality of Lecturers – You cannot just compare the experience and expertise of lecturers they have  in a university setting to that of the polytechnic. Most university lecturers are professors and PhD holders with years of teaching coupled with experience to show for it. In fact, most Master degree holders in some universities are mere assistant lecturers.
This is not so for our polytechnics where most of their so-called 'experienced' lecturers are mere BSc holders who are university graduates. Most rectors of polytechnics are Msc holders, though not all, only a few are PhD holders. At times, even corps members lecture in some polytechnics.
2 Qualification  For Entrance – The qualification for entrance into the university is more strict compared to that of polytechnics. Obviously, JAMB UTME cut off for universities is somewhat high, at times, this leads to frustration of jambites,   which makes them resort to polytechnics.
3 Funding From Government – Nigerian Universities are much more funded by government than polytechnics. Funding is one of the ways to determine the quality of an institution.
If you notice, the government and the media in general pay more attention to the demand of ASUU over ASUP. Though, some universities might decide to play narrow with the funds.
That is why products of universities are always trained better than those of polytechnics.
4 Research Work– Universities are the foundation of researches and this is the root of progress in institutions. Even though the quality of research work in Nigerian universities is poor, it is still far better compared to that of polytechnics that do very negligible or feeble research works.
5 Beautiful And Large Campus Environment – Mere structures and architectures of buildings in an institution goes a long way in telling about the quality of such institution.
Taking OAU as an instance, whether OAU is still the most beautiful campus in Africa or not is an argument meant for another day. But No polytechnic in Nigeria can even compete with the institution in terms of structures and its landmass.
6 Quality of students – It's a no-brainier that the most brilliant students go to universities. In most polytechnics, all you see is dejected and old students who have taken JAMB UTME more than a couple times but no luck, then resorted to such institution. Just few of polytechnic students are young and smart, no hate.
7 Scholarships Preference – Reputable scholarship bodies hardly notice polytechnic students when it comes to scholarship offering. Only university undergraduates would have the opportunity to apply for such scholarships. Not only at the undergraduate level but also postgraduate scholarships.
Meaning, there i hardly scholarships for polytechnic students. This is another form of discrimination in some sense.
8 Market Demand – Market preference for BSc is far higher than for OND/HND. OND/HND holders are most times seen as middle level manpower though that was the intention when polytechnics were initially created.
There are more opportunities for BSc holders even outside the country and world wide.
9 Self Esteem – An average BSc holder tends to have more confidence and self-belief than a HND holder. This is however not the fault of HND holders, they only have to face stiff discrimination in the employment market, thus having a negative impact on their self esteem.
These and some other reasons are why Polytechnic students are subject to discriminations anywhere to find themselves.
DISCLAIMER : This post is not in any way meant to impress, oppress or make anyone feel depressed. It is just a mere observation from an average human being who is subject to flaws and bound to write whatsoever words that form from the letters he probably randomly typed