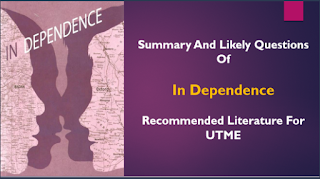 20 Possible Questions from Joint Admission Matriculation Examination, JAMB's "IN DEPENDENCE" By Sarah Mayinka
After Providing the Chapter By Chapter Summary of the JAMB Recommended Literature For UTME, we have decided to provide 20 JAMB likely possible questions from the book "In Dependence" for candidates preparing for 2017 UTME.
Here 20 POSSIBLE QUESTIONS FROM JAMB'S "IN DEPENDENCE" BY SARAH MAYINKA
The questions are twenty in number. The answers to the question can be found at the end of the post.
Please remember that the purpose of this is to give you a clue as to how the questions will be presented. It does not means that these are the exact questions to expect.
So please read and ensure you complete the book before the examination.
20 POSSIBLE QUESTIONS FROM JAMB'S "IN DEPENDENCE" BY SARAH MAYINKA
1. How is Suleiman related to Vanessa
(a) Biological son
(b) Adopted son
(c) Nephew
(d) Nibling
2. Vanessa's Mother known as ______ died of cancer in what year.
(a) Mrs Baker, 1975
(b) Mrs Elizabeth, 1976
(c) Mrs Baker, 1977
(d) Mrs Elizabeth, 1978
3. Vanessa was eventually married to who?
(a) Professor Peters
(b) Professor Tayo
(c) Professor Edwards
(d) Professor Trevor
4. What is the nature of Christine's death?
(a) Murder, overdose
(b) Suicide, overdose
(c) Accident
(d) Cancer
5. Uncle Kayode later pursued a career in _______
(a) Teaching, London
(b) Businessman, France
(c) Engineering, France
(d) Sailor, London
6. Professor Tayo was given an honorary award in
(a) Music
(b) Civil Law
(c) Science
(d) Literature
7. How many honorees were awarded a doctorate alongside Professor Tayo
(a) 3
(b) 4
(c) 5
(d) 6
8. Tayo's cousin, Tunde is the Pastor of
(a) a great Catholic Cathedral in London
(b) a Nigerian protestant church in London
(c) fastest growing Nigerian Church in London
(d) a Baptist Regional Church in London
9. Kwame had been teaching in the ______ before Tayo's arrival
(a) California University
(b) Oxford University
(c) London University
(d) San Francisco University
10. For how many years has Kwame been teaching in the University before Tayo's arrival.
(a) Six
(b) Seven
(c) Eight
(d) Nine
11. The name of the driver accompanying Tayo to the Airport when he had an accident is
(a) Audu
(b) Ahmed
(c) Abdou
(d) Alfeez
12. Mrs. Elizabeth seemingly had an affair with a slave while in Nigeria named?
(a) Daudu
(b) Danladi
(c) Danjuma
(d) Dende
13. Pick-up-your-stick-and-sandals marriage was a phrase popularly used by the ______ according to Vanessa
(a) Igbo
(b) Yoruba
(c) Hausa
(d) Europeans
14. Salamatou is the biological mother of Suleiman, but she died of
(a) Cancer
(b) Car accident
(c) Brief Illness
(d) Heart attack
15. Vanessa married to Professor Barker on
(a) July 14th 1975
(b) July 15th 1976
(c) July 16th 1977
(d) July 17th 1978
16. Suleiman was ______ years old when he dropped out of the university
(a) 17
(b) 18
(c) 19
(d) 20
17. Vanessa Richardson is an Africa Journalist who writes column for
(a) Washington Post
(b) New York Times
(c) The Guardian
(d) Daily Times
18. Akin, the carver, had a great uncle, who was a servant to ______ during colonial periods
(a) Colonial officer Jonathan
(b) Mr Nancy Murdoch
(c) Sir Hugh Trevor
(d) Lord Lugard
19. Tayo lied to Vanessa that Christine was his
(a) Sister
(b) Friend
(c) Cousin
(d) Enemy
20. Kemi (Tayo's daughter) has a boyfriend named ______, who works as a _____
(a) Charlie, photographer
(b) Laurent, chef
(c) Richard, chef
(d) Metuh, photographer.
Answers:
BDCBCDCCDB [1-10]
CCCBBBCDCB [11-20]