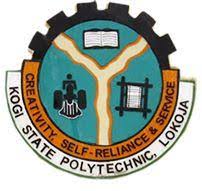 Kogi State Polytechnic, KOGIPOLY ND 1st Batch Admission List For 2017/2018 Session Released.
This is to inform all full-time National Diploma Programme (ND) applicants of the Kogi State Polytechnic, Lokoja that the UTME [ND] first batch admission list is out for the for the 2017/2018 academic session.
The approved first batch admissions for IJMB and ND programmes have been uploaded on the school portal for the 2017/2018 session.
HOW TO CHECK KOGIPOLY ND 1ST BATCH ADMISSION LIST FOR 2017/2018 SESSION
1. ND Candidate
•Visit the school admission checking portal http://portal.kogistatepoly.edu.ng/legacy/viewadmittedstudents.aspx
• Select the Session, Mode of Study, Programme and Course and click on view admitted  students  to see names of admitted candidates in that department or
• Type the UTME Reg number/ Name in the box that appears below and Click ' Search' to view admission status.
• If successful, Click 'Return to Admission Letter Printing'
• Type the UTME Reg Number and Click 'Preview' to view/print the admission letter.
Best Wishes!