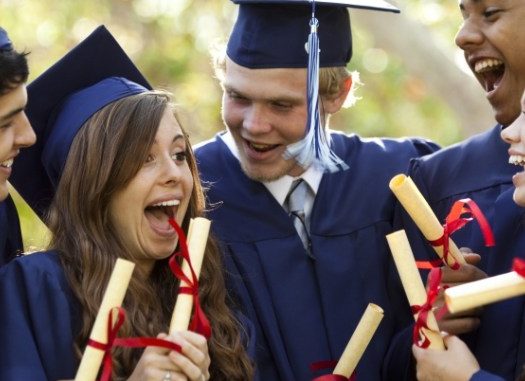 It is true that you are required to have at least a credit pass as an O'level requirement before you can study certain courses in any university in Nigeria, however, that you are unable to obtain that grade does necessarily mean that you won't be able to secure admission into a higher institutions.
The good news is that there are courses you can apply for and be able to secure admission into even when you have an ordinary pass (D7 or E8) in your O'level Mathematics. The purpose of this post is to give you a list of courses you can study with an ordinary pass in mathematics and the universities that can accept you into such courses.
List of Courses You Can Study With A Pass In Mathematics And The Universities That Offer Such Courses
1. INTERNATIONAL RELATIONS
WELLSPRING (well sprang accepts a pass in Mathematics provided the candidate has a total of five credits including English language, Government/History, and Economics)
2. MASS COMMUNICATION
Here are the Universities that accept pass in Maths for Mass Communication;
CARITAS, CRUTECH, ESUTECH, NSUK, MADONNA, RSUST, WELLSPRING, WESTERN-DELTA, AAUA, ABU, ABSU, AJAYI, AKSU, AL-HIKMAH, UNIBEN, BINGHAM, COVENANT, UNIJOS, KWASU, IBBUL, UNIMAID, PLASU, UNN, NOUN, CRUTECH, UNIZIK, BSUM, IMSU, JABU, SOUTHWESTERN
3. LOCAL GOVERNMENT ADMINISTRATION
ABU – as Local Government and Development Studies.
4. OFFICE AND INFORMATION MANAGEMENT
NDU
5. PUBLIC ADMINISTRATION
UNN – as Public Administration as and Local Government, BSU – as Public Administration, UNIABUJA – as Public Administration
6. FISHERIES AND AQUACULTURE
FUAM (A candidate with a pass in Mathematics but credit in Physics will be accepted. )
7. ARABIC STUDIES
UMYU, EKSU – Arabic and Islamic Studies
8. ARCHAEOLOGY
UNN
9. CHRISTIAN RELIGIOUS KNOWLEDGE/STUDIES
TASU
10. THEATRE ARTS
REDEEMERS, FUOYE – Theatre and Media Arts
11. ENGLISH LANGUAGE
FUDUTSE, REDEEMER'S, UMYU
12. ENGLISH AND LITERARY STUDIES
FUOYE
13. FRENCH
UMYU
14. HAUSA
UMYU
15. HISTORY
IGBINEDION, UMYU, REDEEMER'S – History and Strategic Studies, JABU, UI
16. ISLAMIC STUDIES
UMYU
17. LINGUISTICS
UNIBEN – As Linguistics and African Language
18. PHILOSOPHY
AAU, AAUA, UNIABUJA, AKSU, AUGUSTINE, UNIBEN, BMSE, BOWEN, BSU, UNICAL, CLARETAIN, COOU, DELSU, DOMINICAN, EKSU, FULAFIA, FED-NDUFU, FUWUKARI, FOUNTAIN, UI, IMSU, JABU, KSU, UNILAG, LASU, MADONNA, NDU, OAU, OOU, UNIPORT, POPE, SAU, SPIRITAN-NSK, ST-JOSEPH, SWSO, TANSIAN, UHIELE, UNIZIK, UNIUYO, VERITAS
19. GEOGRAPHY
FULOKOJA, FULAFIA, FUKASHERE, FED-NDUFU
20. POLITICAL SCIENCE (UNDER ARTS)
AUE, FULOKOJA, FUKASHERE, FUWUKARI, FED-NDUFU, FUOTUOKE, PLASU
21. SOCIOLOGY
PLASU (Under Arts)
Under Social Science;
ABSU, UNICAL, UNILORIN, ABU, JABU, ABUAD
22. ELEMENTARY EDUCATION
UNICAL
23. SECRETARIAL EDUCATION
BAUCHI, IAUE, OOU – Secretarial Administration, TASUED – Secretarial Administration and Education
24. EDUCATION AND INTEGRATED SCIENCE
EBSU, YABATECH, UNN, OAU
25. EDUCATION AND EFIK/IBIBIO
University of Uyo (UNIUYO)
26. EDUCATION AND BIOLOGY
AAUA, UNN
27. EDUCATION AND ISLAMIC STUDIES
UMYU
28. EDUCATION AND FRENCH
UMYU
29. EDUCATION AND GEOGRAPHY
UNIPORT, DELSU, UNICAL, UNILORIN, UDU,  and UNIUYO
30. EDUCATION AND HISTORY
UMYU
31. PHYSICAL AND HEALTH EDUCATION
AAU – (options in:
i. Health Education
ii. Physical Education
DELSU
AAUA – Health Education
32. EDUCATION
DELSU
33. EDUCATION AND ENGLISH LANGUAGE
UMYU
34. EDUCATION AND HAUSA
UMYU
35. EDUCATION AND RELIGIOUS STUDIES
UNICAL
36. EDUCATION ARTS
UNICAL : with options in:
Education English
Education History
Education Religion
Education French
37. EDUCATION AND ARABIC
UMYU
38. EDUCATIONAL FOUNDATION
AAU
39. EDUCATIONAL MANAGEMENT
UNIILORIN
40. LIBRARY AND INFORMATION MANAGEMENT
UNIZIK, ABSU – as Library Science. KSU, UNIJOS – as Library and Information Science
41. NURSERY AND PRIMARY EDUCATION
EKSU, UNIJOS – as Early Childhood Education
42. GUIDANCE AND COUNSELLING
UI, BSUM
43. ADULT EDUCATION
UI, UNICAL
44. EDUCATION AND SOCIAL STUDIES
ABSU, UNICAL
45. EDUCATION AND GOVERNMENT
ABSU
46. EDUCATION AND ECONOMICS
UNILORIN
47. GEOGRAPHY AND METEOROLOGY
ESUT
48. CIVIL LAW; LAW
UNIZIK, UNIUYO, MADONNA, BIU, IMSU, DELSU, AAU and UNIBEN
49. GEOGRAPHY
UNN
50. BUSINESS ADMINISTRATION
UNICAL
51. MARKETING
UNICAL
52. ECONOMICS
UNIMAID
53. GEOGRAPHY
UDUSOK, UI, UNN
54. POLICY AND STRATEGIC STUDIES
UNICAL – as Policy and Strategic Studies, ABUAD – as Social Justice