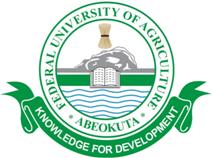 Applications are invited from suitably qualified candidates seeking admission to the following Postgraduate Diplomas, Masters and Doctor of Philosophy Degree programmes at the Federal University of Agriculture, Abeokuta, Nigeria.
For available courses, download the advert document .
Admission Requirements
To be eligible for admission to the Postgraduate Diploma Programme, candidates must be first degree holders in a relevant discipline from any recognized University. In general, all applicants must satisfy basic UTME requirements for Bachelor's degree.
Holders of HND with Upper Credit and above could also apply.
Candidates for Master's Degree Programme must be graduates of the Federal University of Agriculture, Abeokuta or any other University recognized by the Senate and shall normally have obtained a minimum of Second Class (Upper Division) degree in relevant field. However, candidates with Second Class Lower Degree in relevant field may be considered. Candidates for Masters of Information and Communication Technology (MICT) programme should possess HND plus a Postgraduate Diploma in Computer Science or B.Sc. Physical Sciences/Engineering and Allied Disciplines. Prior computing or IT exposure is beneficial but not essential. Candidates for admission to Masters and Ph.D programmes in Communication Studies shall possess University degrees in Arts, Science, Applied Science, Social Science and Education or other related disciplines
To be eligible for admission to the MBA (AgriBusiness) and Professional Master in Communication Studies degree programmes, candidates must be holders of Bachelor's degree from a recognized University or HND (Upper Credit minimum) with a Postgraduate Diploma in any discipline.
Candidates with Postgraduate Diploma in Communication studies with a minimum cumulative average of 55% may be considered for Postgraduate Master's in Communication Studies. In addition, possession of relevant professional qualification and/or experience will be an advantage. A credit pass in O'-Level Mathematics is not compulsory for admission into PMCS programme which is strictly part-time (Friday and Saturday) programme. The duration of the programme is a minimum of 4 semesters.