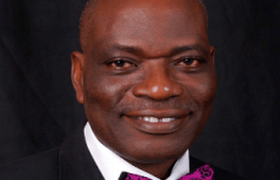 Oluwatoyin Ogundipe has been appointed the 12th Substantive Vice Chancellor of the University of Lagos.
This contained in a statement made known by the information unit of the university.
The statement said the institution followed the guidelines for the appointment of vice chancellors and provosts, as recommended by the Ministry of Education.
The three candidates that were selected are Oluwatoyin Ogundipe, Olukayode Amund, and Ayodeji Olukoju.
The statement said Mr. Ogundipe scored the highest mark in the exercise.
"At the end of the Governing Council meeting of Friday, 27th October 2017, Council approved the appointment of Professor Oluwatoyin T. Ogundipe."
Mr. Ogundipe who was appointed a professor in 2002 became the Deputy Vice Chancellor of the institution on April 1, 2016.
He is a Professor in the Department of Botany and also the Director of Academic Planning at the University of Lagos. He was born on May 31, 1960. He is married and blessed with three children.