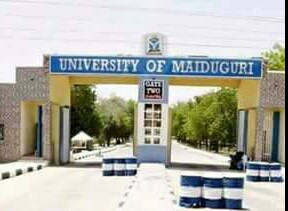 This is to inform all students both new and returning of University Of Maiduguri (UNIMAID) that the management has released the online students registration procedures for 2017/2018 academic session.
NEW AND RETURNING STUDENTS ONLINE REGISTRATION PROCEDURES
1. Go to your Faculty/Department for clearance, you will be given a Login
and Clearance pins (Both to be used only once)
Note: New most present their Admission Letter and Originals of
credentials for screening and issues of ID Number.
2.a) Open your browser (Chrome, Firefox, Internet Explorer or Safari) and in the address bar type www.unimaidonline.net
b) On the login page enter User ID (Your Id Number) and Password (Your
Login PIN Number). See arrow on the image below.
c) Success login Enter your Registration No. and login PIN (eg. 01000003)
d) Enter your clearance PIN (e.g. P010000003) Click Submit
e) Take note of information provided on you Home Screen
f) Click on "personal" (Mandatory for New Student)
g) Output after editing personal Data
Please Change your password at this point
h) Click on your ID_number of the Welcome bar to Change Password
i) Click Course and Click Registration (This will take you to pay section if
you did not pay your fee)
j) Click "Pay through REMITA" for e-payment
k) Choose payment type either bank or ATM (REMITA)
l) Print the RRR invoice and proceed to any Bank of your choice or your
ATM to make you payment.
After making payment Login the portal and continue your registration.
m) Click "Course", then "Registration" to register your courses
n) Enter 1 for First semester or 2 for second semester and click search
o) Select your required courses in the displayed courses and click "Add"
p) Repeat steps l, m & n for second semester.
q) Click Print to print out your registration.
r) On the print dialog box click on save icon and click PDF
s) It saves your registration as PDF file. Print 4 copies and take to your
Department for signing and submission.
NOTE
The online students registration procedures/guidelines is also available in images format.