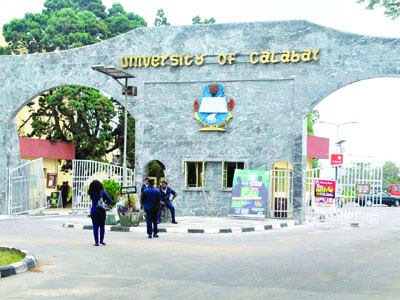 The bursar of the University of Calabar, Mrs. Beatrice Igwe and the protocol officer of the institution are currently in the custody of Nigeria's secret police; the DSS for allegedly hatching a plot to kidnap the wife and daughter of the Vice Chancellor, Professor Zana Akpagu.
CrossRiverWatch gathered that the duo have been hatching the plot for a while now and sent several threat messages to Mrs. Akpagu through one 'fake prophet'.
This was then reported to the DSS who traced the lines and eventually invited the duo to their office for questioning.
SolutionClass also gathered that they were sent invitations on Wednesday, they reported on Thursday and were detained after questioning.
Sources in the DSS say their answers to the questions led to their detention.
At the time of filing this report, CrossRiverWatch confirmed that they were still held at the DSS facility in Calabar.
Another security source familiar with details of the matter also told CrossRiverWatch that from the chain of communication, "It appears the Bursar's husband may also be directly connected to the alleged plot."
The Vice Chancellor, Professor Akpagu has also confirmed to CrossRiverWatch that the duo had been invited by the DSS and also acknowledged that his wife has been receiving threat messages.
Professor Akpagu is said to have been instrumental in the appointment of Mrs. Igwe who took over from Atim Mensah who was in acting capacity following the suspension and subsequent sacking of ex bursar, Mr. Peter Agi.