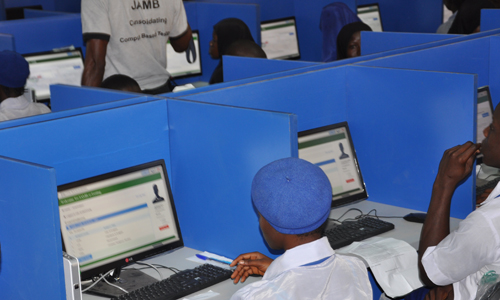 Senate Moves To Scrap 2017/2018 Post-UTME
ABUJA – THE Senate had begun moves to scrap the post Unified Matriculation Examination, UME as it yesterday mandated its committee on Tertiary Education to meet with relevant stakeholders, especially the Joint Admission and Matriculation Board (JAMB) and come up with recommendations on how to achieve the set goal.
According to the Senate, the move has become imperative because the introduction of the post – UME examination has to a large extent failed to remedy the problems associated with the JAMB, adding that its continued existence has posed more challenges for the Nigeria educational system.
The Senate has also called for the development of a strategy that would ensure the efficiency and integrity in the conduct of JAMB examination.
The resolutions of the Senate Tuesday followed a motion by Senator Umaru l. Kurfi, APC, Katsina Central and entitled, "The Need to revisit the regulatory conflict between Joint Admission and Matriculation Board (JAMB) Universities in offering admission in Nigeria."
In his presentation of the motion, Senator Umaru l. Kurfi said that "The Senate: Notes that the Joint Admission Matriculation Board (JAMB) was established in 1976 and saddled with the responsibility of streamlining and co- ordinating admission practice as well as determining who is admitted into universities and other tertiary educational institutions in Nigeria;
"Further notes that that the Nigerian Universities Commission (NUC) is the Federal umbrella organization which oversees the administration of University education in Nigaria, and prior to 2005 , the truly criteria needed for candidates seeking admission into tertiary institutions was for such candidate to have minimum admission requirement and possess a certain score at his or her JAMB examination.
"Aware that the laudable objectives of JAMB began to suffer progressive denudation shortly after its inception as some universities admitted students outside the list sent by JAMB and rejecting candidates with admission letters from JAMB on the ground that they had to comply with their own internal quota and catchment calculation, coupled with the issue of malpractices that plagued JAMB examinations.
"Further aware as scores of successful JAMB candidates turned out ill equipped for university education, the Federal Government, in 2005, under the leadership of President Olusegun Obasanjo , introduced the policy of Post-UME screening by Universities which made it compulsory for tertiary institutions to screen candidates after JAMB results and before offering admission;
"Worried that while this new development was aimed at addressing the problem of student quality, it reintroduced and entrenched many of the problems it sought to eliminate through JAMB;
"Cognizance that while the executives introduced the Post-UME policy as a remedy to the decay in educational standard in higher institutions of learning, there have been public outcry of extortion from candidates despite the rigorous test they pass through at JAMB;
"Disturbed that as the integrity of the post -UME examination is open to question as the pecuniary motive of the respective institutions comes so visibly to the fore that there is little pretence about maximizing the income flows through these internal examinations;
"Regrets that the introduction of the post – UME examination has to a large extent failed to remedy the problems associated with the JAMB and as such, its continued existence has posed more challenges for the Nigeria educational system."