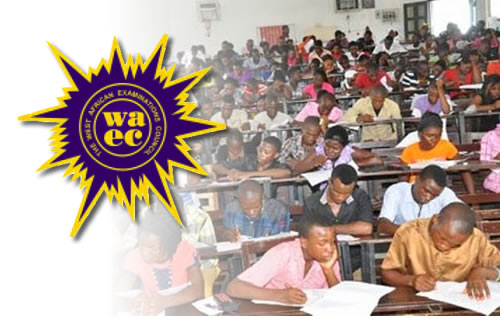 Exam Time: Tuesday, 19th September, 2017
Chemistry 2 (Essay)
9.30am – 11.30am
Chemistry 1 (Objective)
11.30am – 12.30pm
Government 2 (Essay)
2.00pm – 4.00pm
Government 1 (Objective)
4.00pm – 5.00pm
=-=-=-=-=-=-=-=-=-=-=-=-=-=-=-=-=-=-=-=-=-=-=–=-=-=-=-=
Read Also;  2018 Waec chemistry obj and theory expo here
=-=-=-=-=-=-=-=-=-=-=-=-=-=-=-=-=-=-=-=-=-=-=-
KEEP REFRESHING THIS PAGE
=-=-=-=-=-=-=-=-=-=-=-=-=-=-=-=-=-=-=-=-=-=-=-
WAEC GCE CHEMISTRY OBJ AND THEORY ANSWERS FROM EXAMHOT.COM
=-=-=-=-=-=-=-=-=-=-=-=-=-=-=-=-=-=-=-=-=-=–=-=-=-=-=-=
CHEMISTRY OBJ:
=-=-=-=-=-=-=-=-=-=-=
1-10: CBDADCBABD
11-20: BACCBBADCC
21-30: DCACABABAA
31-40: DDBDADBBDA
41-50: BBACDBDCBA
Examhot.com #cares
(1a)
A Standard Hydrogen Electrode (SHE) is an electrode that scientists use for reference on all half-cell potential reactions. It is a redox electrode which forms the basis or reference of thermodynamics scale of oxidation or reduction potential
(1b)
Metals are good reducing agents because they readily loose the electron and have negative electrode
(1c)
(i) Diamond and shinny appearance and glitter
(ii) It is the hardest substance known
(iii) All its valence electron are localised no free one
(1di)
Chemical change:Is a change that produces new kind of matter and needs heat or spark to happen and is not reversible and is affected by change of mass
(1dii)
(i) Adding solution to water
(ii) Rusting of iron
(1e)
Isotopes is the existence of an atom of an element having the same atomic number but different mass number(differences in neutron number)
(1f)
A weak acid is one that does not ionized completely in water, a dilute acid is one with low concentration it can be weak acid or strong acid but has plenty of water
(1g)
PH is the negative logarithm of hydrogen ion.It shows the degree of acidity or alkalinity of a solution PH=-log10[H+]
(1h)
(i) It is poisonous to animals and plants
(ii) It causes acid rain
(1i)
MgBr(s)+Cl2(g)->MgCl2(s)+(Br(l)
(1j)
(i) By distillation
(ii) By adding preservatives such as sodium benzonoate
-=-=-=-=-=-=-=-=-=-=-=-=-=-=-=-=-=-=-=-=-=-=-=-=-=-=-=
2ai) it's a group of atoms or type of bond possessed by certain organic compounds making them have some or similar chemical properties.
(2aii)
I. Ester
II. Ethyl ethanorate
(2bi)
(I). Unsaturated hydrocarbon
(II). Alkanol
(III). Alkanoic Acid
(2bii)
(i) Acidified KMnO4 turns from purple to colourless
(ii) A sweet smelling compound is produced
(iii) Effervescence occurs with colourless odourless gas that turns lime water milky being evolved
(2ci)
I. O
II. -1 and +1
(2cii)
I. 4H+ + No3— +3e— >NO + 2H2O
II. Mass/molar mass = It/πe— * 96500c
0.5/197 = 0.8*t/3*96500
t= 0.5*3*96500/197*0.8
t = 918.46s
(2di) Group 2
(II) X3N2
(III) Beryllium
-=-=-=-=-=-=-=-=-=-=-=-=-=-=-=-=-=-=-=-=-=-=-=-=-=-=-=
4ai)
The law of conservation of matter states that matter can neither be created nor destroyed but can be changed from one form to another
(4aii)
(i) Gases are randomly in a straight line colliding with one another and to the volume of the cylinder
(ii) The volume occupied by the gas molecules are highly negligible when compared to the volume of the container
(iii) The collision between the gas molecules are perfectly elsatic
(4b)
(i)Producer gas(Mixture of CO and N2)
(ii)Water gas(Mixture of CO and H2)
(iii)H2)(g)+C(s)->CO(g)+H2(g)
(4ci)
(I)Benzene
(II)Carbon II Sulphide
(III)Tarpentine
(4cii)
There will be the formation of metanol.The reaction is endothermic reaction
(4di)
Air the presence in or introduction into the air of a substance which has harmful or poisonous effects.
(4dii)
(i) Efficiency and Conservation
(ii) Carbon Capture
(4ei)
(i) Production of hydrogen by electrolysis of water.
(ii) Manufacture of heavy water
(iii) Electroplating
(4eii)
(i) Limestone
(ii) Coke
-=-=-=-=-=-=-=-=-=-=-=-=-=-=-=-=-=-=-=-=-=-=-=-=-=-=-=
(5a)
(i) chlorine
(ii) ammonia
(iii) hydrogen
(5aii)
Because they are poisonous
(5aiii)
Fused Calcium chloride is used in the manufacturing of plastics
Typinq…….
Mr Hillz cares
-=-=-=-=-=-=-=-=-=-=-=-=-=-=-=-=-=-=-=-=-=-=-=-
Answers Loading……..
=-=-=-=-=-=-=-=-=-=-=-=-=-=-=-=-=-=-=-=-=-=-=-