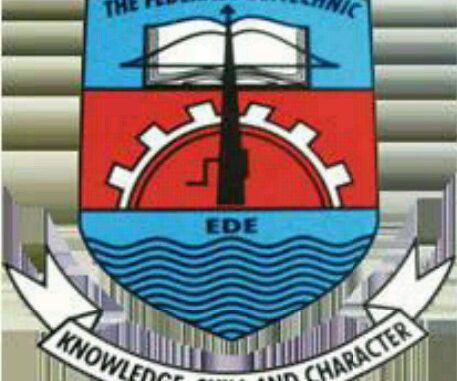 This is the frequently asked questions and Answers to candidates haveing problem in applying for admission into Federal Polytechnic, Ede Osun State for 2017/2018 academic session.
1. My print out doesn't display jamb score.
ANS: The print out doesn't display the
candidates jamb score.
2. My screening/exam date is not on my print out.
ANS: The initial print out doesn't contain the exam/screening date. You would be notified at a latter time to print a print out containing your
exam/screening date and venue.
3. When is the deadline for registrations.
ANS: All registration closes on Saturday
September 29th, 2017.
4. Where can I register?
ANS: Visit the school website or a competent cyber cafe/business center.
5. I choose ede as second choice but I scored 150(and above).
ANS: If you like score 400. You are only eligible to apply for daily part time and part time.
6. I choose ede as first choice but I didn't score up to 150.
ANS:You're only eligible to apply for daily part time and part time.
7. What if I register for a program I'm not eligible for?
ANS: Congratulations for wasting your money. You stand no chance of being admitted.
8. My O'level doesn't meet the course I choose requirements.
ANS: Make sure you choose a course that your o'level meets its requirement. Otherwise you'll be wasting your money. Even after you're admitted you will be asked yo withdraw when it's
discovered you didn't meet the requirements.
And it's ALWAYS discovered so don't even risk it.
9. How can I be eligible for full time?
ANS: When you choose Ede as first choice and scored at least 150.
10. When is the exam/screening date?
ANS: It hasn't been fixed yet?
11. My print out displays another person's details.
ANS: Log out and re-login in. Then try a new download. If issue persists try after a day or two.
12. Can I come to the school to make a
complain about a problem I'm encountering?
ANS: No. Its a waste of time and money as there's no channel for that in school.
13. Where can i get past questions?
ANS: It's sold on campus and around campus environs.
14. Are we writing exam or doing screening?
ANS: Only full time candidates are scheduled for screening. Others will write a computer based exam.
15. What's the difference between Full time,daily part time and part time?
ANS: Full time is a two year program and has the lowest school fees. Part time is a three year program and has the second highest school fees.
Daily part time is a two year program and has the highest school fees.
16. I have pass in my ND with two years I.T, can I apply?
ANS: Yes. Candidates with ND pass and one year I.T should not apply.
17. Can I use awaiting result?
ANS: Yes. But be sure it'll be ready when its needed.
18. I registered the wrong info, what do I do?
ANS: Which of the Info's?? If it is about the name or wrong o'level grade.. Its advisable the person registers a new one entirely .. But if it happens to be wrong course, he should continue,as the school would still open change of course for admitted ones.. But if it's o'level, forget school this year.
19. How much is the form?
ANS: Full time, 2k. Daily part time, part time & HND, 10k. (Excluding registration/bank charges.
20. How can I get this information across to others?
ANS: Simply share this post and invite others to this website.
www.mycampusgist.com.ng
21. What if I have other questions or issues different from those treated here?
ANS: simply use the comment box.
We wish everyone all the best.