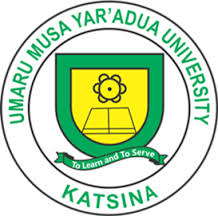 The Umaru Musa Yar'adua University hereby invites candidates who scored UTME 170 JAMB Points and above and who choose the University on first choice to register for screening and aptitude test through the University portal – http://portal.umyu.edu.ng/application
The online registration commences on Friday 8th September and ends on Sunday 24th September, 2017.
Accordingly, the screening and aptitude test is scheduled to take place between Tuesday, 26th and Wednesday, 27th September, 2017.
Eligible candidates should upload the following documents on the University's website on or before Sunday, 24th September, 2017:
JAMB Result Slip;
O'Level Result, and a
Form of Identification (Indigene Letter, National ID Card/International Passport etc).
ELIGIBILITY:
To be eligible for the screening and aptitude test, a candidate must have:
Scored a minimum of 170 marks and above in the 2017 UTME Examination.
Obtained a minimum of Five (5) relevant credits at O'Level (including English and Mathematics).
Eligible candidates are to pay the sum of N2,000.00 for the screening and N500.00 as bank charges through the payment options provided on the University's website.
Candidates are to come along with payment slip for the screening and aptitude test.
METHOD OF APPLICATION
1. Read the Admission Requirements
2. Click on 'Register' above to fill the registration form. NOTE: Registration is to be done once. If you have registered before just Login to continue filling your form.
3. On successful registration, you will receive a success email from 'The Umaru Musa Yar'adua University'.
4. Click on 'Login' to log on and generate a Transaction ID to make payments at designated banks.
5. On successful payment, log on to your profile and start filling the application form.
6. Edit your Application Profile (This will require your recent passport photograph and your biodata).
7. Edit your Institution Attended.
8. Edit your Qualifications (WASSCE, and other Certificates are entered here).
9. Select your choice of Course.
10. The next section (Declaration and submission of form) will not be displayed untill all sections have been filled correctly.
1. Print your Exam Card.
2. Please always check to confirm if you are shortlisted.
Please for enquiries and/or complaints send an email to: admission.helpdesk@umyu.edu.ngOR call +2348029490924, +2348185348285, +2347081084092
* All Candidates must read the following instructions before filling the form.
* Successful applicants can now login and make payments of N2,500.00 (N2,000 being cost of aptitude test and N500 being Bank and Administrative charges)