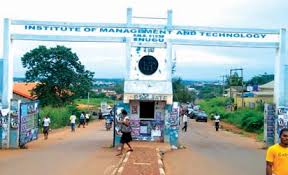 The Institute of Management and Technology, Enugu hereby invites eligible candidates who selected IMT as their institution of first choice in the 2017 UTME and scored 120 marks and above, to send their application details for the 2017/2018 academic session screening exercise.
Qualified candidates will also be screened for a newly approved ND programme in Library and Information Science.
To apply:
Purchase an electronic PIN at the cost of Two Thousand (N2,00), Invoice N200 and Bank Chanrge N300 Total: N2,300 from any of the following banks.
-Zenith Bank Plc – Trans Ekulu, Enugu
-Fidelity Bank – Ogui Road, Enugu
-First Bank of Nigeria Plc – Okpara Ave., Enugu
-FCMB – Garden Ave., Enugu
NOTE: For now online application is not yet enabled
Candidate should purchase the screening form and submit on or before 13th of October 2017 at any bank in Enugu
SCHEDULE FOR THE SCREENING ARE AS FOLLOWS
The screening exercise holds from 18th October to 20th October 2017:
School Of Business Studies- 18th October 2017
School Of Environmental Studies- 18th October 2017
School Of Engineering 19th October 2017
School Of Art,Design & Printing Technology 19th, October, 2017
School Of Communication Art 20th October 2017
School Of Financial Studies 20th October 2017
School of Technology 20th October 2017
Registration Closing Date:
All applications must be filled online on or before 13th of October 2017.
SAMPLE OF FORM BOUGHT BY OUR STUDENT