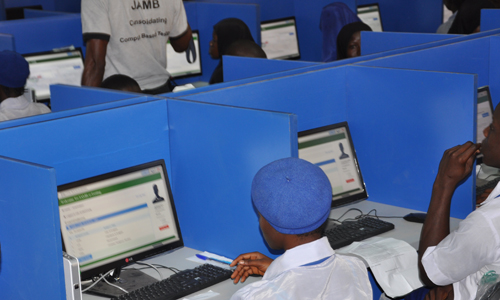 Many 2017 UTME and Direct Entry Applicants whose institutions forms are out have been experiencing error of No Record Found during online registration on their various school portal.
The complaints on this issue reaching SolutionClass keeps increasing tremendously daily, we decided to carry out an investigation and we noticed that those candidates experiencing this issue are those who recently performed the JAMB Change of Course/Institution recently, immediately or after their school admission screening forms were released.
We have decided to clarify this error issue and also enlighten students on the process of the JAMB Correction of Data [precisely the Change of Course/Institution].
Its no longer news that most Institutions Admission Screening Forms are being released, Many students who either were not eligible for their Previous Chosen Institution Admission Screening Exercise has been given opportunity by the Joint Admission Matriculation Board [JAMB] to change to any institutions of which they are eligible or think they might have higher chance of gaining admission.
Thousands of candidates optioned in for this service [Change of Course/Institution] as am typing this many candidates are still performing changes knowing fully well that most schools admission forms are on sale.
After performing these changes such candidates hurriedly visit their School Portal to register without prior notice that the effect is a gradual process.
This will now resolve to the online Registration Error "No Record Found" which most candidates are experiencing.
JAMB CHANGE OF COURSE/INSTITUTION APPLICATION/REVIEW PROCESS
We are using this meduim to inform all candidates who have performed the JAMB Change of Course/Institution either once or twice after their institutions forms are out and are experiencing this error not to panic as the issue or fault doesn't lie with them, instead from the Joint Admission Matriculation Board.
When a candidate performs the JAMB Change of Course/Institution on the portal, the newly selected school of choice or institution are received by the operators at the JAMB office Abuja.
It is now been reviewed, once reviewed it either gets approved or disapproved depending on JAMB Reasons. If it eventually gets disapproved the Joint Admission Matriculation Board will send a message via the applicants email on the status of his application.
Possibly on the other hand it gets approved [In all cases its been approved, i have only recorded fewer cases of disapproval] the applicants newly corrected data will now be compiled in a Comprehensive List which are divided in batches.
The Comprehensive List are usually in Batches and are arranged according to the time and date each applicants application for correction are received.
The Comprehensive List are there thereby compiled after reaching the quota of the batch and now sent out to their various institution.
E.g If Candidate A did a Change of Course/Institution to UNILAG, Candidate B also make changes to OAU, Candidate C to UNIBEN, each candidates application will be placed in the Comprehensive List of their Various Institution.
Candidate A- UNILAG Comprehensive List
Candidate B- OAU Comprehensive List
Candidate C- UNIBEN Comprehensive List.
The List after full compilation will now be sent to their various institutions either through Mail or Postal Service.
This process continues sequentially to subsequent application coming in to the Joint Admission Matriculation.
Now Cant you see that the whole process is quite a tedious one and will take couple of days if not weeks to for your preferred or chosen institution to receive the request?
NOTE: The Process still doesn't end there, the Institution ICT Department will now embark on the process of uploading the newly received applicants records to their database, this process might take days depending on the operator in-charge.
To Cut the long story short all candidates who performed the Change of Institution/Course are hereby informed to be patient as the process is a gradual one. It Might take Days or Weeks for your record to get uploaded on your School Portal in-order to enable you carry on with your registration.
Most of you might be wondering or asking What if the Institution already gave a deadline for the online application and my changes is yet to be effected?
Well the Good news is that as at Today 6th September, 2017, The Joint Admission Matriculation Board [JAMB] has announced to all schools/institutions to be patient with such candidates. Which means that provided you did a change to an institution earlier you shouldn't panic as your institution will create room for late registration of candidates whose data was received late from the JAMB Office.
Below is an official statement release form the Joint Admission Matriculation Board [JAMB] to all students who recently carried out the Change of Course/Institution.
"This is to inform all candidates [UTME/DE] applicants that have made changes (change of institution/course) and it has not been reflected thereby reflecting error of "No Record Found" are advised to be kindly patient.
A Comprehensive List would be sent to all Institutions soon.
All Institutions have been directed to ensure that all candidates are considered for their various PUTME"
Candidates should not panic as they would certainly sit for the PUTME in the Institutions they have made changes to.
If you still have any question pertaining the above Subject Topic you can use the comment box below