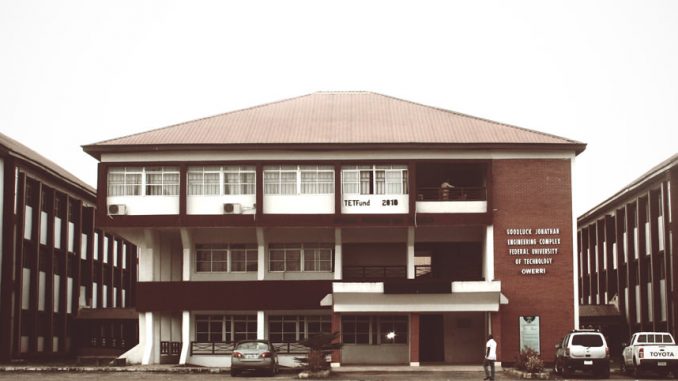 The Postgraduate School, Federal University of Technology, Owerri (FUTO) invites applications from suitably qualified candidates for consideration for admission into the
underlisted Diploma, Masters and Doctorate Degree programmes for the 2017/2018 session under Regular, Centre for Continuing Education (Weekend), Institute of Women/Gender and Development Studies (IWoGDS), Institute of Erosion Studies (IES) and Public Procurement Research Centre (PPRC).

Available Postgraduate Programmes
SCHOOL OF AGRICULTURE AND AGRICULTURAL TECHNOLOGY
PGD, M.Sc and Ph.D Degrees in Animal Science and Technology with specialization in:
Animal Breeding and Genetics
Animal Management
Animal Nutrition
Animal Product
Reproductive Physiology
PGD in Animal Science and Technology
Department List
Animal Science
Fishery
Agricultral Economics
Agricultural Extension
Soil Science
Crop Science
M.Sc. and Ph.D. Degrees in Food Science and Technology with specialization in:
Food Microbiology
Food Chemistry and Nutrition
Beverage and Brewing Technology
Food Processing Technology
Department List
Food Science
Chemical Engineering
Polymer and Textile
Petroleum
Civil Engineering
Materials and Metallurgical
Mechanical Engineering
Agriclture Engineering
Electrical & Electronic
SCHOOL OF MANAGEMENT TECHNOLOGY
M.Sc. in Project Management Technology with specialization in:
Construction Technology
Manufacturing Systems
Industrial Process Technology
PGD with options in:
Construction Technology
Manufacturing Systems
Department List
Project Management
Financial Management
Information Management
Maritime Management
Transport Management
SCHOOL OF ENVIRONMENTAL SCIENCE AND TECHNOLOGY
PGD, M.Sc. and Ph.D. Degrees Environmental Technology with specialization in:
Pollution Control Technology
Flood and Erosion Control Technology
Geo-Environmental Technology
PGD in Environmental Technology
SCHOOL OF HEALTH TECHNOLOGY
Masters and PGD in Public Health Technology with specialization in:
Environmental Health and Safety Technology
Epidemiology and Disease Control Technology
Health Promotion and Wellness Technology
PGD in Public Health Technology (PGDPH)
Department List
Public Health Technology
Biomedical Technology
SCHOOL OF SCIENCE
M.Sc. and Ph.D Degrees in Mathematics with specialization in:
Industrial and Applied Mathematics
Differential Equations
Control Theory
Elasticity
Semi-Group Theory
Options in Statistics:
Time Series Analysis
Econometrics
Probability Theory
Multivariate Analysis
Department List
Computer Science
Mathematics
Physics
Microbiology
Geosciences
Biochemistry
Biotechnology
Chemistry
REQUIREMENTS
We are delighted that you are interested in FUTO's Postgraduate School. FUTO's Postgraduate school has evolved tremendously to become one of Africa's Finest. Equipped with a wide array of resources, FUTO's Post Graduate School brings together distinguished professionals and talented students who share a common passion for their fields.To learn more about the Graduate School and our requirements please see below.
PGD
Candidates applying for the Postgraduate Diploma (PGD) programme must possess a HND Upper Credit or above and five credits at 'O' levels in the relevant science subjects. Applicants with a Third Class Honours degree or a Pass degree may also apply. Also Applicants with professional certificates such as ICAN, ACA, FIST, FIMT, FMILT, FNIST and other relevant qualifications may also qualify for admission.
A Bachelors Degree in the relevant discipline from FUTO or any other recognized University
A good Bachelors Degree with at least Second Class Honours in other related disciplines.
M.Sc, M.Eng, MPH
A first degree with at least a second class honours qualification in the related area from FUTO or from any other recognized University.
A Bachelors degree from a recognized university plus a PGD in the relevant area.