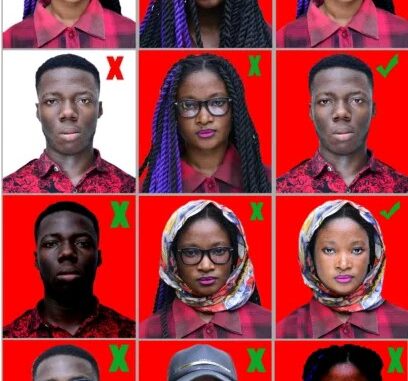 Following the announcement of the 2017/2018 Admission Screening Exercise of University Of Benin (UNIBEN) the management has released an important information to all concerned candidates on uploading of passport photographs for the admission screening registration.

The above picture show different categories of passport photographs any candidates applying for the screening exercise passport photographs must be like the first two at the third column by the right.
NOTE :
1.All passports must be with RED
background.
2.Apparels like glasses, caps, etc in
whatever form must not be used.
3.The face on the passport must be
devoid of shadow or shadowy
background.
4.Any passport suspected to have
been blended or worked on to cause
deceit will result in the automatic
disqualification of such candidate.
5. Hairdos must not cover the face
of the candidate.
6.For the use of hijab, the face must
be well exposed to ensure clarity
and ease recognition.
7.Candidates are advised not to edit
out facial / tribal marks so as not to
distort resemblance to the physical
appearance
8.Any candidate who flouts any of
these instructions would have
invariably disqualified themselves.
All students are to take note and comply accordingly and mistake on passport photographs May lead to automatic disqualification.
Bewarned!!!