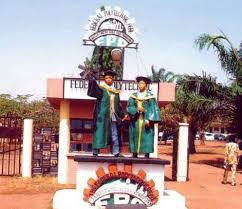 The Federal Polytechnic Offa, Kwara State has moved to strike an affiliation with the Federal University of Technology, Minna.
EFFORTS to carve an enviable inch for the Polytechnic, as envisioned by the Rector, Dr. Lateef Ademola Olatunji, recently yielded robust affiliation understanding between the Federal Polytechnic, Offa and the Federal University of Technology, Minna.
Manifestation of the aforementioned was witnessed during a 3-day visit of a 15-Man Resource Assessment Committee from the University.
The visit was an offshoot from the request of the Polytechnic Management to enter into organizational partnership with the University. It would be recalled that the Management had indicated its interest to collaborate with the University in some academic programmes critical to sustaining science and technology development in the country.
While welcoming the team, Dr. Olatunji leading other Principal Officers, expressed Management's commitment to the partnership. He assured the team of Management's cooperation just as he thanked the University's authorities for their interest in the Polytechnic.
Responding, leader of the team, Professor Emmanuel Udensi, said the visit was to inspect and assess both human and infrastructural facilities available for programmes where affiliation was intended.
He added that the team was on a pre-National Universities Commission (NUC) visit but would adopt all NUC guidelines in resource assessment. He further added that it was important to visit for resource inspection in order to prepare the institution for the expected standard shape for NUC approval.
At the exit briefing, it was revealed that Polytechnic Management had requested affiliation in 12 academic programmes but due to inadequate very senior lecturers in two programmes, the tentative approval was granted for 10 namely; Civil Engineering; Computer Engineering; Electrical/Electronic Engineering; Mechanical Engineering; Computer Science; Building Technology; Food Science; Microbiology; Physics with Electronics and Biochemistry.
In its report, the team advised the Polytechnic Management to urgently address areas identified for improvement before the arrival of NUC. The team however, gave kudos to the Management on facilities and quality of staff in the departments under assessment.
The 15-Man Committee consisted of Prof. Emmanuel Udensi (Director, DCAL), Team Leader; Dr. F. A. Kuta (Dep. Director, AP); Dr. Moh'dAbubakarBitagi; Prof. Uno Uno(HoD, Physics); Prof. E. C. Egwim (HoD, Biochemistry); Dr. R. A. Jimoh (HoD, Building); Dr. Mustapha A. Mohammed (HoD, Civil Engineering); Dr. M. B. Abdullahi (HoD, Computer Science); Prof. J. C. Anuonye (HoD, Food Science); Dr. J. K. Kolo (HoD, Computer Engineering); Dr. J. Tsado (HoD, Electrical/Electronic Engineering); Dr. O. A. Olugboji (HoD, Mechanical Engineering); Prof. D. Damisa (HoD, Microbiology); Ruth Lamai-Odepidan (AR, DCAL) and Fatima Musa (Affiliation Desk Officer, DCAL).