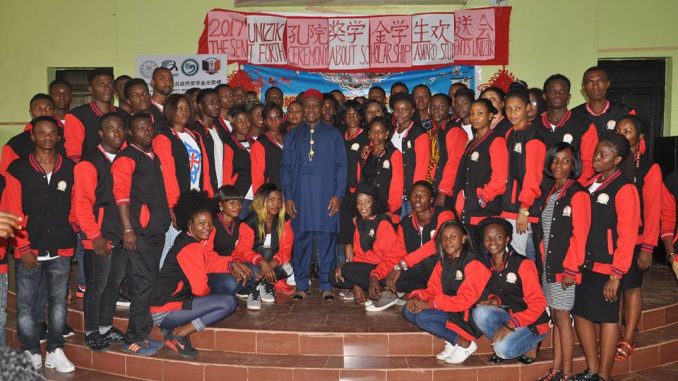 The dream of 64 students of Nnamdi Azikiwe University Awka studying Mandarin at the Confucius Institute came alive as they bagged scholarships to advance their study in various universities in China.
Speaking at the Send forth ceremony organized by the university, the Vice Chancellor, Prof. Joseph Ahaneku while congratulating the beneficiaries, noted that the Chinese study introduced in the University in 2008, has continued to yield great fruits.
"Today, we are celebrating excellence. We are no longer in the stage of advocacy, we've made a statement. UNIZIK is where you can learn Chinese, to qualify for higher level of scholarship to achieve the dream you have set for yourselves", Ahaneku stated.
In a bid to internationalize the University, the vice chancellor noted that aside French, Chinese, efforts are in Top gear for the introduction of both Spanish and German.
According to him, "We are using languages as our next window in solving problems of unemployment. We need to open the space and environment to discover ourselves."
He further advised the students to be disciplined and portray good examples of the institution in their sojourn to China.
In her remark, the Deputy Vice Chancellor (Administration) and Nigerian Director of Confucius institute, Prof. Carol Arinze-Umeobi commended the vice chancellor for his undiluted resolve in making the UNIZIK Confucius Institute tower above others globally. She charged the students be of good conduct.
In the same vein, the Director of Unizik Confucius institute, Prof. Wang Bo expressed joy over the number of students being produced by the Confucius Institute.
He noted that there was a significant increase in the number of beneficiaries against that of previous years.
The director disclosed that three of the students are on Chinese Government Scholarship while Seven students are being sent to the Partner University, Xiamen university to obtain their masters degree.
He however thanked the vice chancellor who is making effort to see that more students gain the scholarship to China by providing all the basic needs of the institute.
In a chat, one of the beneficiaries, Joy Illodibe thanked God for his grace throughout the duration of her study, she also appreciated her parents and the lecturers for their support and their teachings .
According to her, Studying Chinese was a decision she made that caused issue with her family members as they regarded it as a waste of time but she's grateful to God, that they finally supported her later on and she's also leaving for China to obtain her masters degree.
Another beneficiary and graduate of History and International Relations, Joshua Emenike expressed joy for being among the number chosen to travel to China.
Emenike disclosed that he nearly dropped at first due to the clashing of lectures but however presevered.
The students in the course of the send forth made presentations in Chinese.
The Deputy Vice Chancellor (Academic), Prof. Charles Esimone, the University Bursar Mrs. Joy Ojukwu and the Director of Information and Public Relations graced the epoch event.